For a number of years, I've been intrigued by the long migrations osprey make each year. From what I've learned, most of our Maine osprey probably go to South America, or occasionally islands in the Caribbean, or maybe even Central America - but either way, they have to go a lot farther than the eagles I also watch, who can stay here, especially those near the ocean that doesn't freeze (though the fish are further down, so not a winter food source for osprey who, unlike eagles, depend on fish as a food source).
And I've learned that migration is challenging, especially for youngsters on their first trip south, so I try not to get attached - but sometimes one grabs me.
This is Leif Erikson (photo copyright Ian Winter 2016, all rights reserved, used with permission - check out Ian Winter Photography for lots more great photos!) (most pictures click bigger).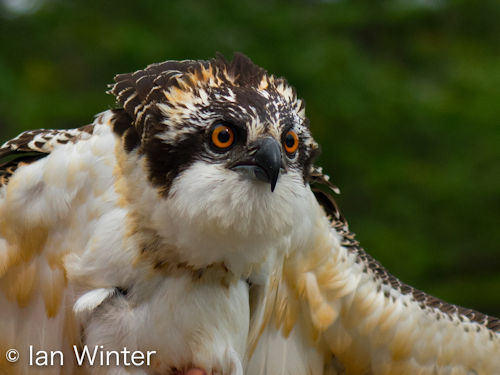 Isn't he a charmer!
Part of my heritage is Norwegian, and I live in Maine, where the early Viking explorers may have visited well before Columbus arrived, so that caught my attention. And I did notice that his nest area looked a lot like what I see in parts of Maine not far from me (this photo is courtesy of Rob Bierregaard, who has been tagging osprey and seeing where they go at least as long as I've been watching eagle and osprey cams):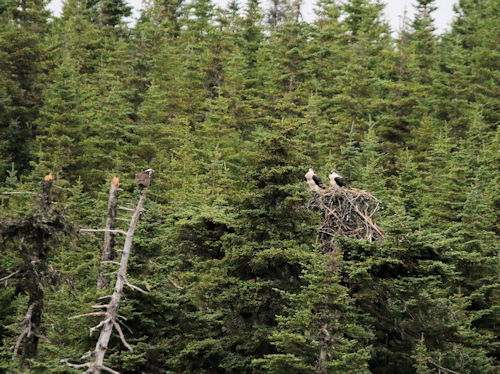 By the way, the nest is in the Memorial University of Newfoundland's Botanical Garden in St. John's, Newfoundland.
So in spite of myself, I did follow Leif when he set forth on his journey south - and was intrigued (and relieved) to know that he didn't decide to fly straight to South America, but first turned in to Nova Scotia, then headed south again, but turned in to Maine. Leif is the teal/turquoise path - the blue path is an adult who has done this before, and has learned that flying over land is easier.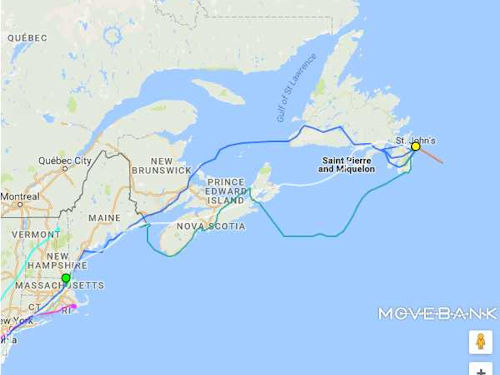 And I was surprised and pleased to learn that Leif's path brought him into my part of midcoast Maine. These two pictures of his travels are from September 29: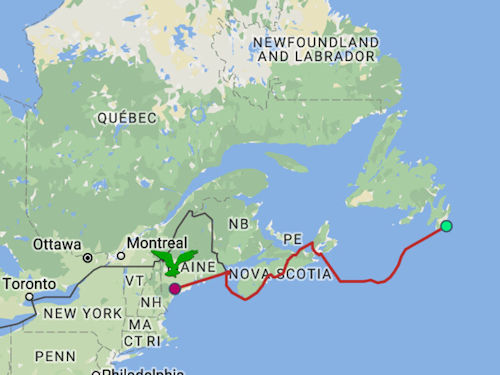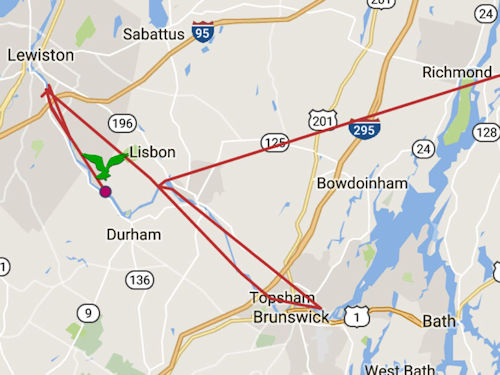 Looking at the picture, it seemed that he'd been spending some time a bit south of Lewiston - but he'd also stopped at Brunswick/Topsham, and appeared to be heading in that general direction - and it's an area I know better than the Lewiston area (the local osprey nests I watch are near Bath (pictures of them here)) - so I headed to Topsham! The easiest place to look was by the dam - a bit more industrial than the picture of Leif's nest, but lots of trees around, with deeper water behind the dam and little pools on the near side.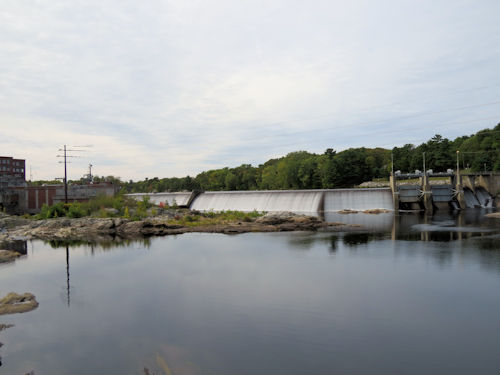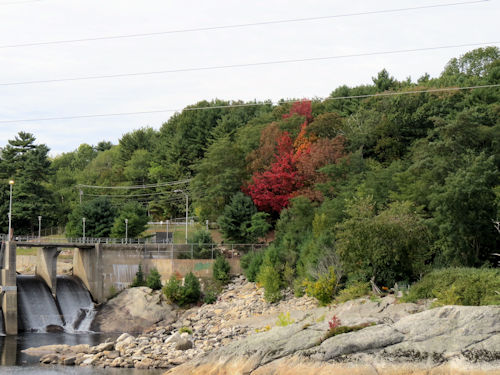 The old mill on the left is now offices and a couple of restaurants - and there's a nice pub on the other side of the street (behind me from this perspective) where I had a lovely bowl of lobster bisque while checking out another section of the river. Very lovely - but no Leif.
These are a bit out of sequence - by Leif's October 5 upload, I realized he was spending time in Lewiston; these are from October 8, when he'd been there for a bit longer (his transmitter is set to upload data about every 3 days if he's within range of a cell tower).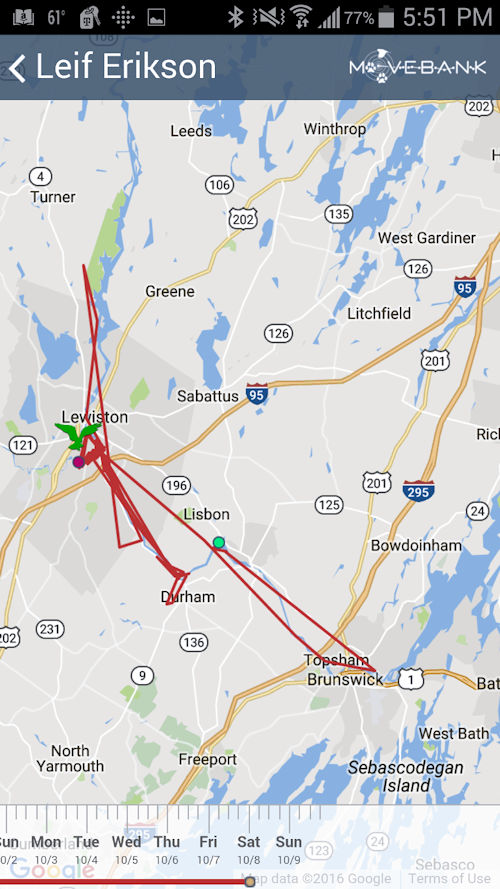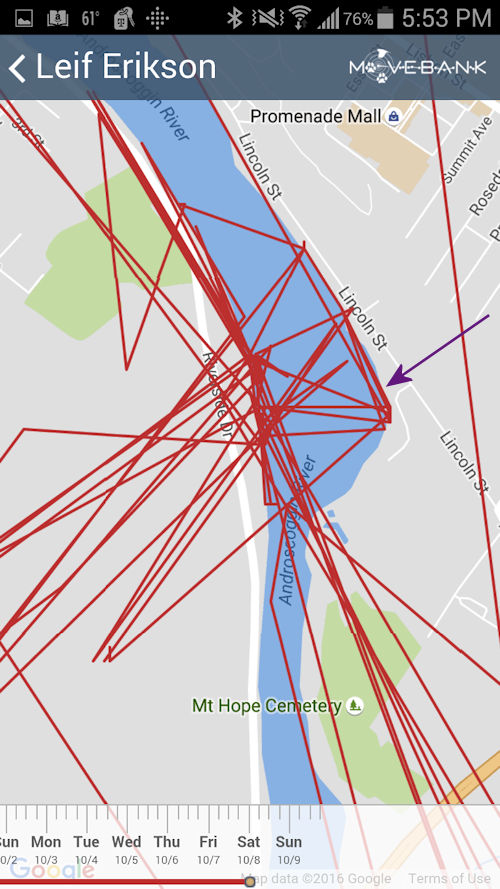 Anyway, on October 5th, I chatted with some friends at work who know Lewiston better than I do, and we did a bit of looking around on Google Earth - and discovered there was a boat launch with a couple of picnic tables and access to the river very near where Leif was spending much of his time (the purple arrow on the second photo above shows where it is). So I left work a bit early on October 5th and headed to Lewiston!
It was absolutely beautiful. Here's the view from the parking area and picnic table - and the road down to the river. (And I did look up - a lot - just in case he was perched above me. And he could have been - but if he was, he was well hidden.)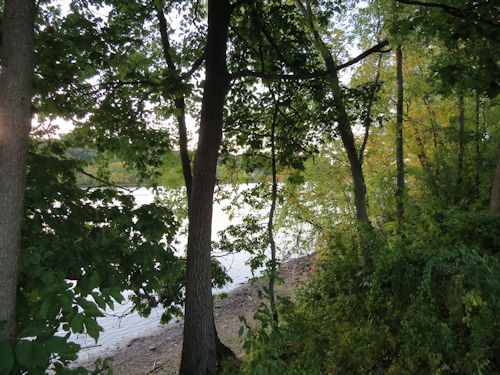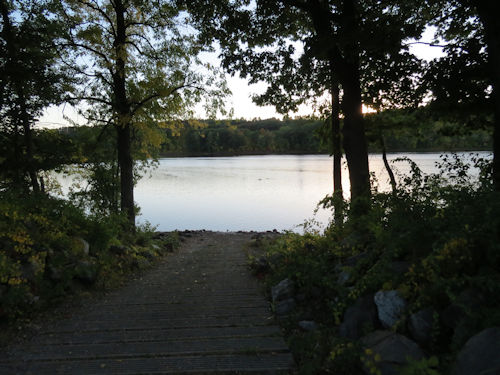 Looking left - and looking right. No Leif. Though if you click the "looking right" picture bigger, you can see the church spires in Lewiston.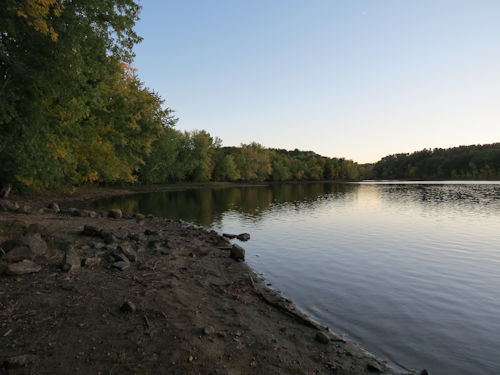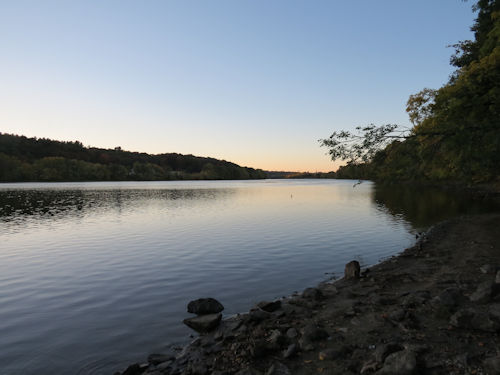 Some ducks - the only wildlife I did see - and realizing that Leif is the osprey equivalent of a young adult, and he has the osprey equivalent of a cell phone, I checked one of the local restaurants just in case he stopped by for takeout (and had a lovely dinner - but no visit by Leif).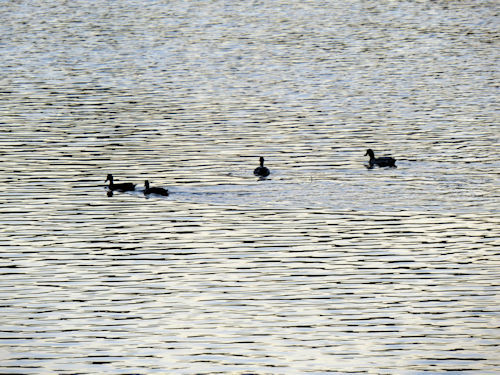 That was Thursday - and he was still there Saturday morning, so I packed a bit of lunch, a book, warm clothes, and my camera and binoculars - and went back to spend some quality time by the river. It was a beautiful day - and a peaceful setting where one could really relax, which I needed after a sort of hectic late summer and fall (and the knowledge that the next few months would be very busy).
The leaves were changing more - with lovely colors leaping out here and there.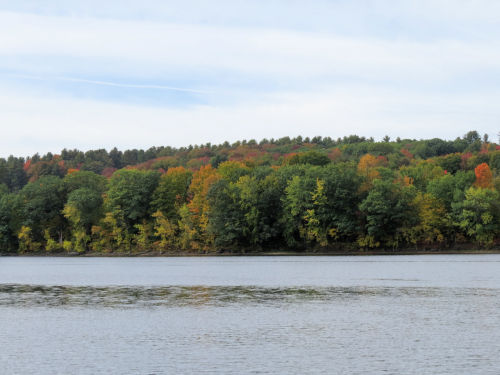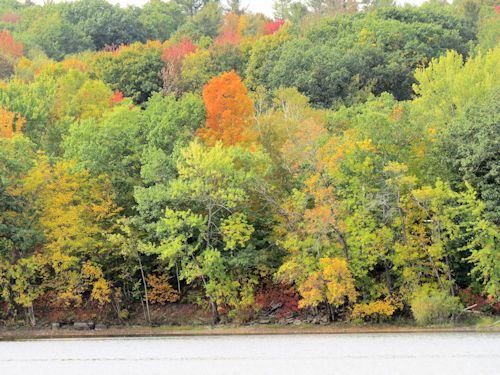 (The pictures above show how much brighter things look when I zoom in - and that I can zoom in quite a ways as I was looking for Leif.)
I saw a bit of a rainbow - and a lot of gulls.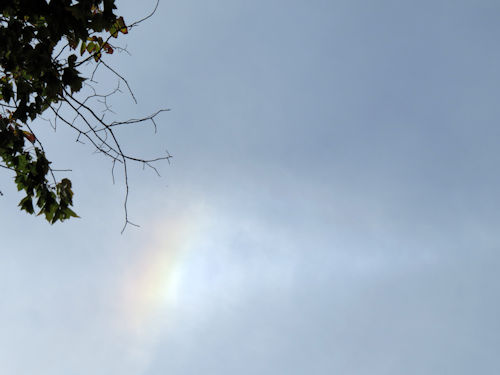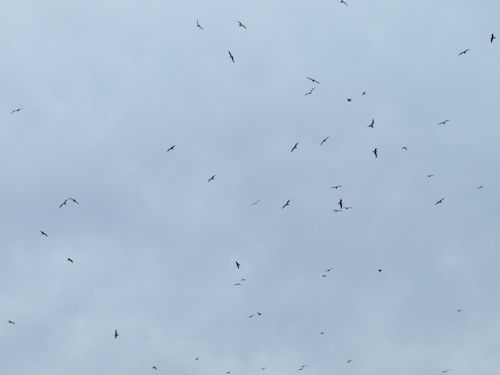 And - I saw an osprey!! But it wasn't Leif.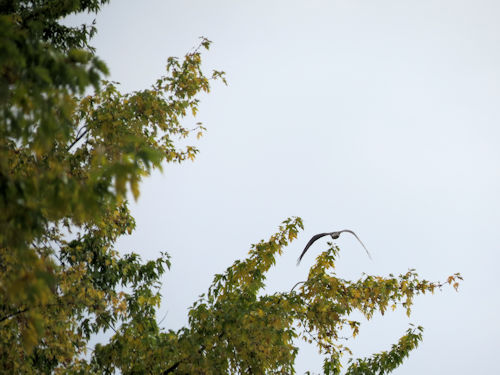 I followed him/her with binoculars as he came out of the trees across the river and made his way around the wide area in the river where I had been camping out, but was only able to get one picture (the second one is cropped so you see more of the fledgling) - it's not easy to focus a camera on a moving object until it's fairly close! I never saw a trace of a transmitter, and Rob Bierregaard (who does the tagging) confirmed that it would be clearly visible if this was Leif. But.... Leif had two siblings - and all the Maine osprey I know left long before this picture was taken - so maybe this is one of Leif's brothers or sisters!

I was so excited that I'd actually seen an osprey that I went back on Monday, October 10, which was a holiday in Maine. Unfortunately, the weather had turned - and it was not the warm late autumn day of two days ago - note the big waves on what had been a pretty calm body of water! But I wore multiple layers of clothes, so it worked. Since I don't have anything more interesting, the second picture of this pair is a closer look at my primary viewing point - big binoculars on tripod, little ones on the dead tree where I was sitting, e-reader in front of the little binoculars, big orange glass of diet soda, towel on the dead tree for padding and warmth, and the bit of purple past the tree is the tote bag for bringing in most of the gear.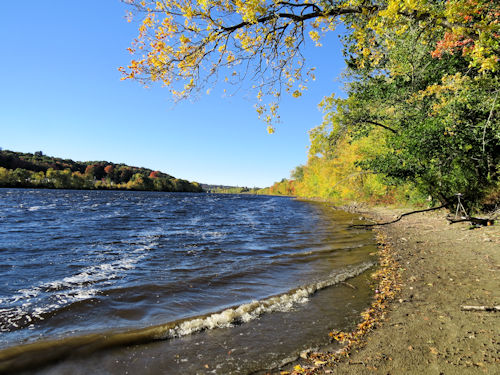 I did see an eagle! And lots of trees that looked great for perching, but no osprey that I could see.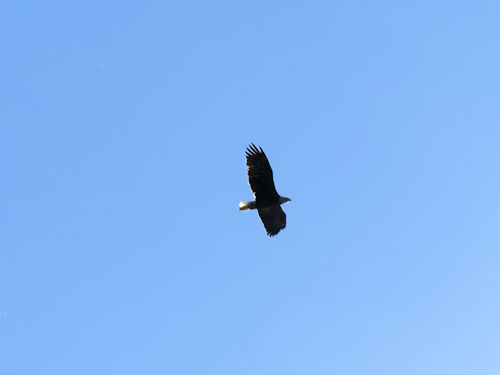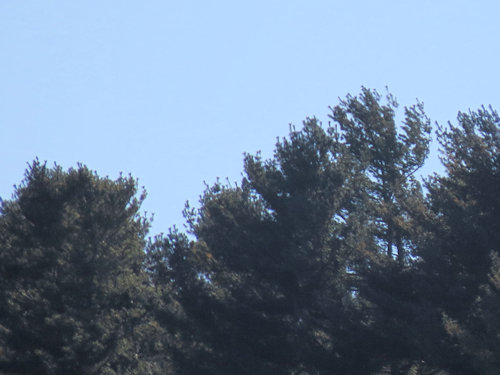 After a while, I went further up the river (sort of where I'm looking in the photo above with the waves), and looked back towards where I'd been spending most of my time (the graphs of Leif's movements suggested he was sometimes up that way a bit). I think the boat launch is visible in these pictures, but I couldn't find it easily with my binoculars.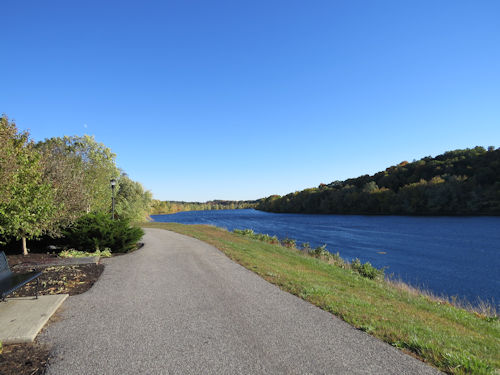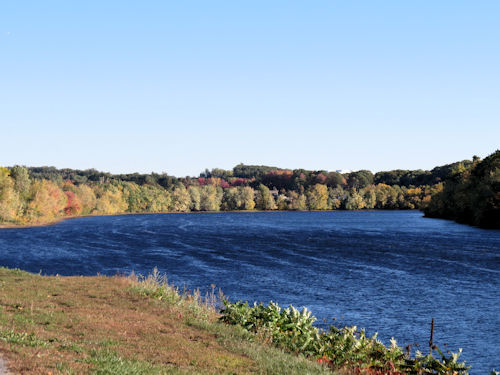 I tried going down after work on October 11 - but it was almost 6 pm when I got there, and getting dark - though I did see what I think was a flock of geese take off for their evening spot.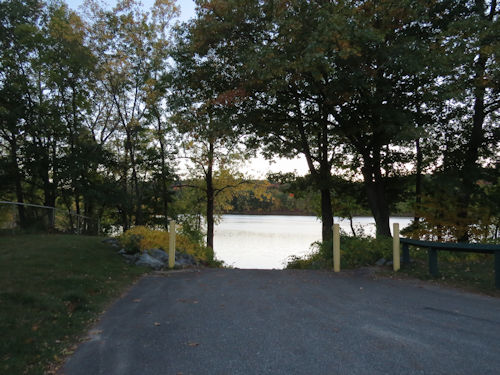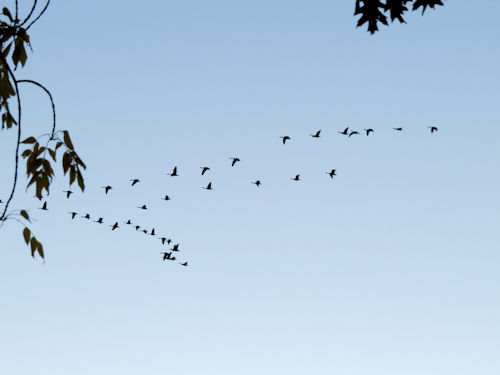 I also saw what I think was a flock/gathering of coots perching down at the lower end of the wider part of the river where I'd been hanging out. I initially thought some of them were perching on a power line, which sort of surprised me, but I have a very fuzzy zoomed in photo that makes me think they are on a fence between the river and the road just beyond the trees. I must admit I was very surprised the first time I saw coots gathering in a tree - which was right after our local osprey left, and they began to take over the perch tree next to the nest for their nighttime perch. I want to finish my story of Leif's time in Maine so I won't take a couple of hours trying to find a public domain picture of a coot's feet - but they are not webbed like a duck - they are more like an osprey's toes with flaps sticking out - so they have the surface area for paddling, but also the flexibility for perching. You know, every time I think I've got a handle on the variations found in nature - something like this comes along to surprise me! And I think the second picture here is the same tree as a few days ago, a little further along in its fall colors.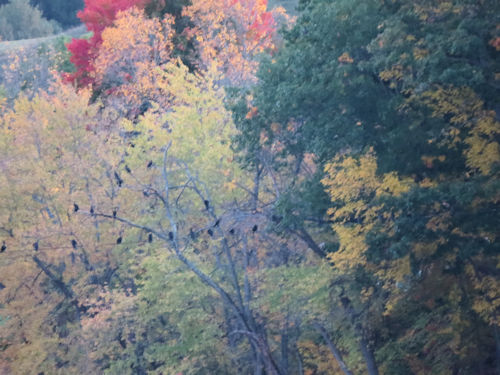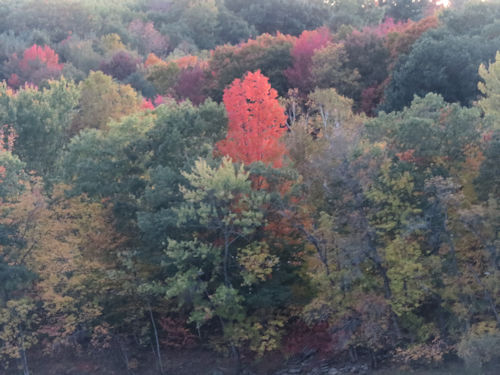 A friend of ours has a song "Farewell to the River" (no link because he hasn't done a final recording yet - it's the story of someone who went canoing for a last time on the river where he grew up, before a giant dam project went into place) - and this is a bit more frivolous, but as I was choosing my next two pictures, his line "he's saying good-bye to the river, he's saying good-bye to a friend" came to mind. I wasn't sure how long Leif might stay, but it was getting too dark to go down after work, and I had commitments for the next few weekends - so I also said good-bye to a beautiful river... for now. Having seen this area, I think I'll be back in the spring, to see what's happening then. (The coots are in the middle of the first picture, on the far shore where the river narrows.) I know there are a lot of these pictures - but please do click some of them bigger - Leif picked a lovely area to visit.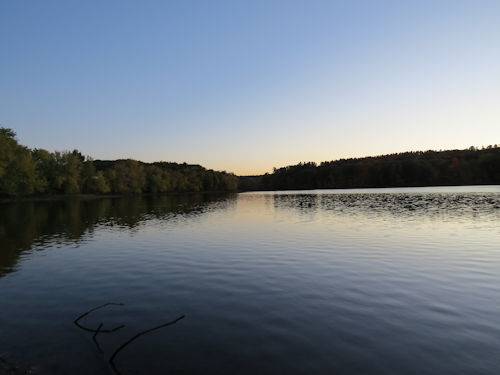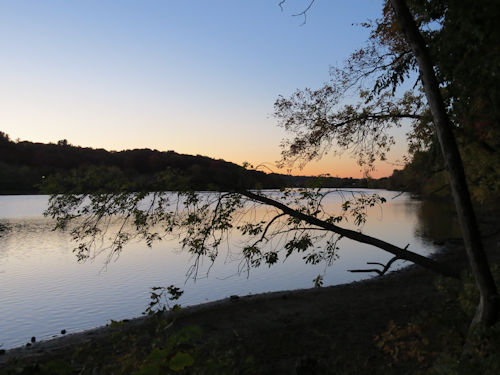 I did not go back to Lewiston - but the tale doesn't end here. There are a lot more pictures - so please visit Part II - when Charlie and I explore Lake Auburn.