We had lunch with my brother and his wife at the Taste of Maine Restaurant in Woolwich which has an osprey nest at the edge of its parking lot (see our June 27 report for some views of the area) - which the BioDiversity Research Institute streams to the web - click for web cam. It was a rainy day so I didn't expect to get much in the way of pictures - and I didn't. But we did get the best table - the one with a great view of the osprey nest - so we could watch them while we had lunch. (The restaurant generously provides binoculars for the tables on that side.) Not a lot of activity, but Mom did take a break from sitting on the edge of the nest, so they could watch her gracefully glide out over the water - and the chicks cooperated by popping their heads up from time to time.
As we were leaving, I went to the edge of the sheltered porch to take a few pictures of the nest. Mom was looking around and we heard her calling - and I was thinking she was announcing it was time for lunch (all pictures can be clicked bigger).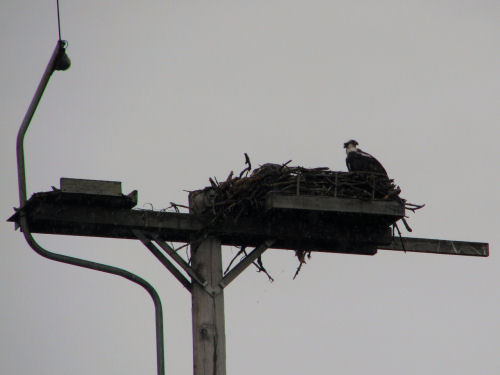 Then she abruptly stood up and flew off. I continued watching the nest through my cam, hoping to see the chicks pop up and look around, when Charlie said "She's coming back." I was trying to decide if I had time to zoom out a bit to try to catch her fly-in or if I should stay zoomed in to see her land - when Charlie said "Here comes another one!" My initial thought was that she'd gone to tell Dad he'd been snacking long enough and to get himself and his fish over to the nest (all an assumption - I don't know where Dad's regular perch is, but I do know that the males normally eat part of the fish and deliver the rest).
Then Charlie said - "Here comes a third one!" At which point I took my camera down so I could see what was happening - and the quick glance I had suggested that Mom was chasing an intruder away from the nest while Dad came tearing from behind to back her up. I pulled the cam back up and shot wildly, hoping to get some part of the chase - and I got a slightly out of focus shot of Mom and the intruder. And when I edited it, I had a surprise.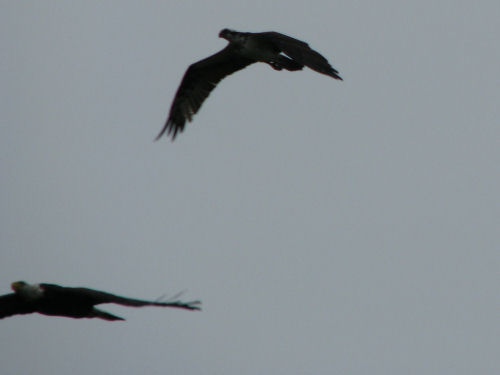 I'd been assuming they were escorting another osprey out of their territory - but while the picture is quite blurry, it sure looks to me as if it was an eagle they were chasing! Eagles and osprey do generally manage a somewhat edgy coexistence. Both are large enough that they can hurt the other - and generally neither is reckless enough to push the issue. I'm guessing the eagle either tried to take a shortcut through their territory or was thinking about fishing near their nest - and they did not approve! We saw them all fly behind the trees across the street, but I couldn't catch them with the camera to get another shot.
A minute or so later (4 minutes from my first pic above), one of the adults was back at the nest, and I did get a peek at one of the chicks.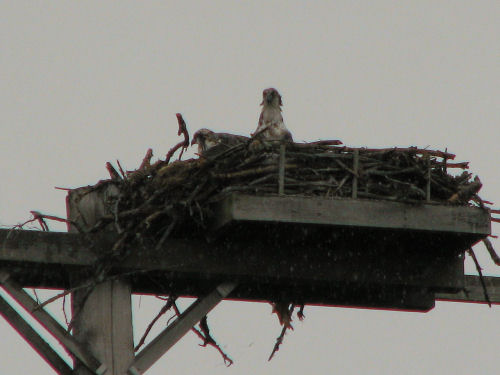 And just as we were leaving, the second chick popped up as well.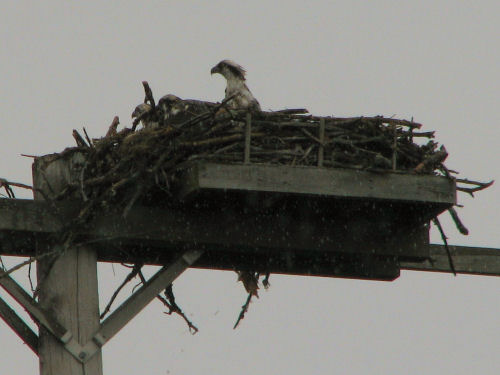 The younger chick was 6 weeks old when these pictures were taken, and the older chick was almost 6-1/2 weeks old. Osprey chicks generally fledge, or take their first flight, when they are 8 - 10 weeks old.
Later that afternoon when the rain had let up a bit, we stopped by the osprey and eagle nests on the Sasanoa River - click here for details of that visit.