The BioDiversity Research Institute has been streaming video from this nest on the grounds of the Taste of Maine Restaurant for several years - and that web cam is where I discovered this osprey nest less than 20 miles from my home!
The camera was off-line on the 17th, and it is getting close to time for them pair to start laying eggs, so I decided to stop by the restaurant and see how they're doing. All pictures can be clicked larger.
First, a view of the nest from the parking lot, and one from the front of the restaurant, to give an idea of the area around the nest: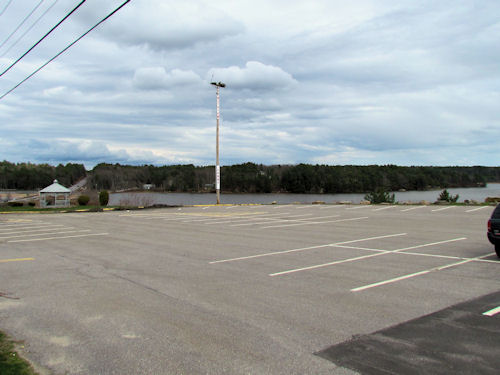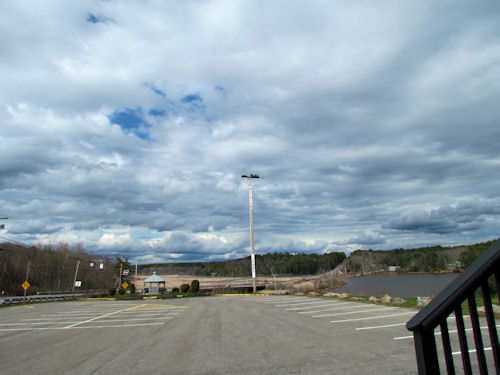 The slightly larger one with the brown feathered "necklace" is almost certainly the females (females are usually larger, and adult females are more likely to have a "necklace" though males have them occasionally, and they're fairly common on chicks of both genders). You can see the camera on the left in the third picture of the group above.
Here's a look at the monitor inside the restaurant: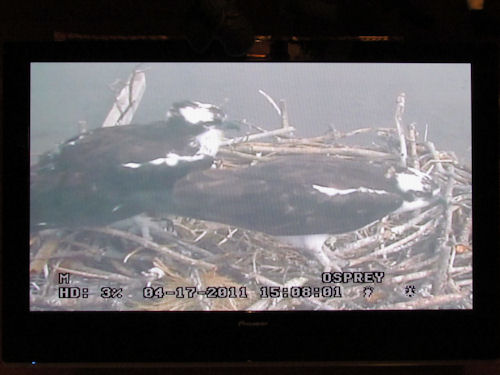 I took this picture on my way in for a late lunch, but also checked as I was leaving at around 3:30 pm, and there had not been an egg laid at that point.
When I got back outside, only the female was at the nest - and she kindly agreed to pose: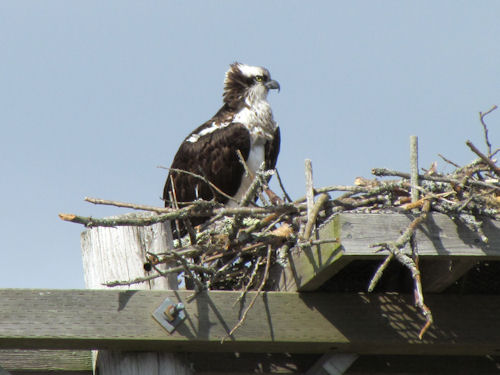 ~~~~~~~~~~~~~~~~~~~~
If you'd like to see additional pictures from this nest, and from the osprey and eagle nests "around the corner" on the Sasanoa River, you can use the link for my Local Wildlife Home Page at the top of the page to see an index to all the visits.