The BioDiversity Research Institute was streaming video from this nest on the grounds of the Taste of Maine Restaurant for several years - and that web cam is where I first discovered this osprey nest less than 20 miles from my home! The Taste of Maine has now taken over the streaming, and unfortunately the web cam is having some major issues this year, but we can still see the osprey when we visit the restaurant. And happily the staff is OK with people popping into the lobby where the monitor is to check the nest cam direct feed and then leaving - though the food is great so we stay for lunch whenever possible! The nest is on the edge of the restaurant parking lot - overlooking a lovely tidal area with lots of fish. By the way - all pictures should click much bigger.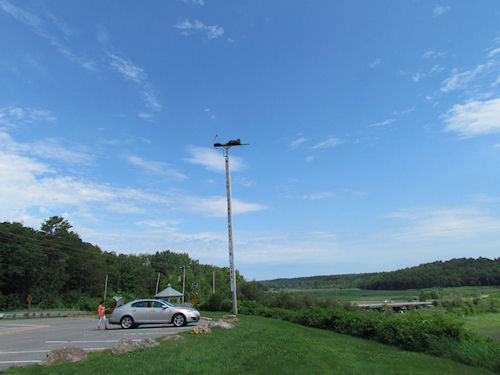 On July 20, 14 of us converged at the Taste of Maine - osprey cam watchers and some bemused spouses - for our annual gathering. This picture was posted by jacci on the Biodiversity Research Institute discussion area for the osprey cam (two people needed to leave early, so there are only 12 of us here):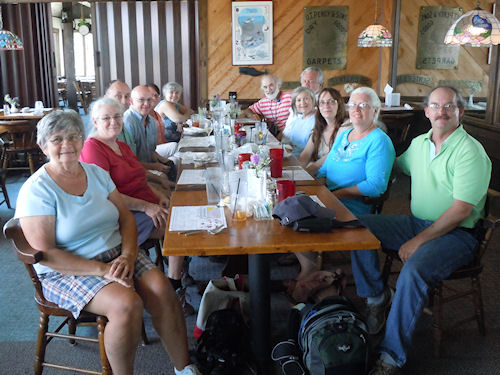 Charlie took some additional pictures of people, which I may add later - but for some reason, my pictures were all of the ospreys. Mom was on the nest with the chicks for most of the time - which does make for a very crowded nest! The chicks are about 7-1/2 weeks old in these pictures. Osprey chicks have white tips on their feathers so they look a bit speckled - the osprey visible in the first two pictures are chicks. The adults back and wing feathers are all dark on top - it's Mom who is sitting on the end of the perch in the last few pictures.
~~~~~~~~~~~~~~~~~~~~
If you'd like to see additional pictures from this nest, and from the osprey nest "around the corner" on the Sasanoa River, you can use the link for my Local Wildlife Home Page at the top of the page to see an index to all the visits.