The little one is already a month old!
As I was approaching the Taste of Maine Restaurant for my more-or-less weekly check on the osprey family (and a delicious meal!), I saw Mom was sitting on the nest, as she often does now that the chick doesn't need to be brooded unless it's especially cold or wet - and then as I got ready to take a picture of her, I saw this!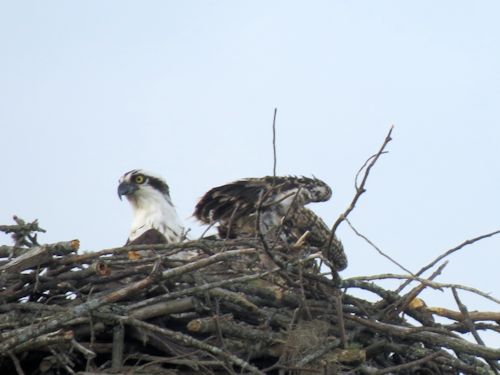 And then this! (Sorry about the fuzziness - I was hurrying to get the shot, knowing she probably wouldn't hold that pose for long.)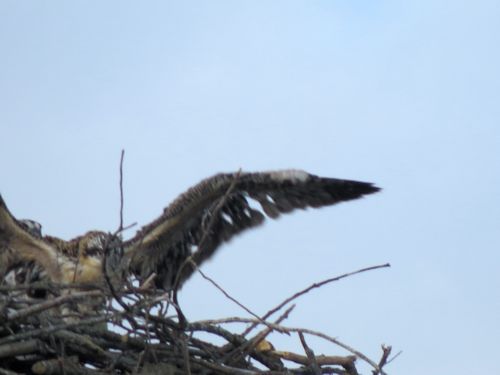 And this! It's a bit hard to tell what's what, though it might be easier if you click to see the larger version of the s'cap; the chick is stretching his/her wings, and Mom is sitting behind her, from the perspective of the camera.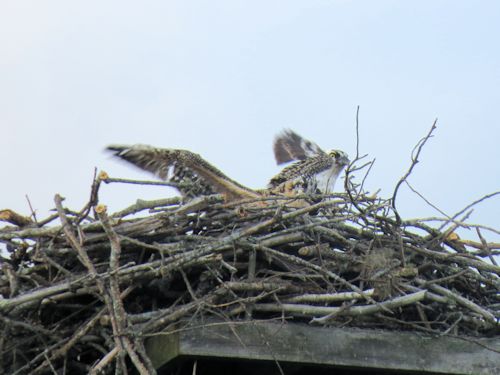 And then they both looked at me. (These were taken from the front of the restaurant - not anywhere near as close as they appear.)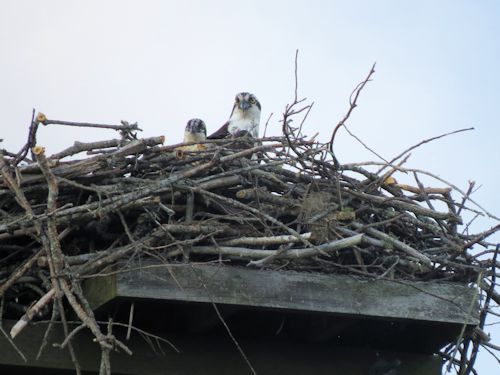 And then went back to watching out over the water - like mother, like daughter?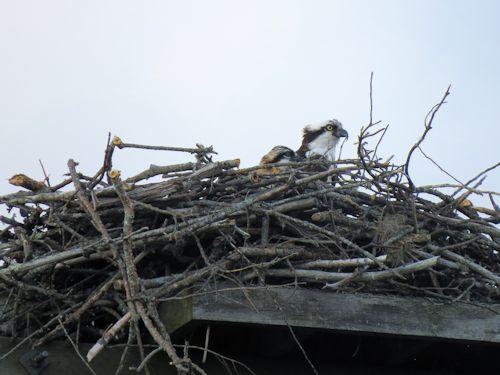 I did also take a picture of the monitor while I waited for my delicious (and huge!) chef's salad to go - the youngster was preening most of the time (I've never grown feathers, but it sounds as if they're quite itchy as they come in, and require a lot of maintenance) - which meant she or he was twisted in some strange positions. This is the most chick-like pose I was able to catch.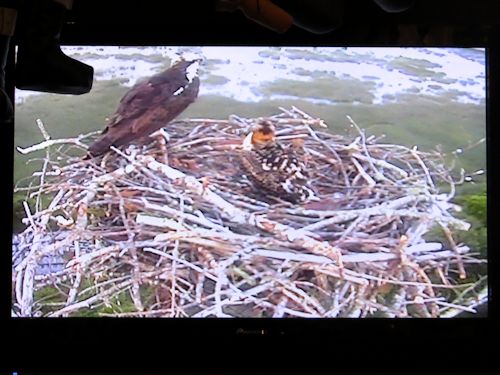 ~~~~~~~~~~~~~~~~~~~~
If you'd like to see additional pictures from this nest, and from the osprey nest "around the corner" on the Sasanoa River, you can use the link for my Local Wildlife Home Page at the top of the page to see an index to all the visits.