I stopped by the Taste of Maine - and the chick was looking good! She was working on a big fish for much of the time I was watching, then some friends arrived and I joined them for dinner - and we were out of sight of the nest. When I left at 8 pm, it was getting dark and the nest was empty. I wondered if she would return after a late flight - or if she's now spending her nights perched near Dad.
And because I am late adding this post to my timeline - I now know that these are my last pictures of the fledgling, though others continued to see her for a few more weeks. So I am adding a few more than I might have done otherwise. ~added 9/21/14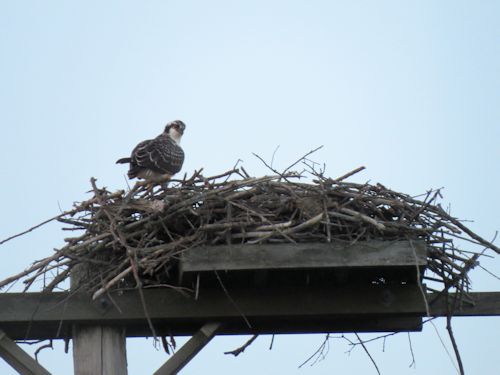 Safe travels, young one! I wish you fair winds, and lots of fish!
~~~~~~~~~~~~~~~~~~~~
If you'd like to see additional pictures from this nest, and from the osprey nest "around the corner" on the Sasanoa River, you can use the link for my Local Wildlife Home Page at the top of the page to see an index to all the visits.