I made my more-or-less weekly stop at Taste of Maine tonight - and did not see the chick, but several of the folks working there said I'd just missed her. She's almost 11 weeks old, and has been flying for three weeks now - and seems to be taking after her "cousin" at the Ayers Island NH nest (you can read about that nest on the Window-on-Wildlife forum - recent posts start here), who is about 10 days older and fledged at about the same age (53-54 days old) - and hasn't been spending much time at the nest for the last few of weeks.

The Ayers Island chick seems to come to the nest when has Dad has a fish - and either eats at the nest, or flies off with it - just the behavior we want to see! And our little one at TOM seems to be taking the same course! Last week I was a little earlier, and she had a fish at the nest - and left after she'd finished her meal and wasn't back when I left, though it was getting dark. And tonight I asked one of the waitresses who pays attention to the nest, and she said the chick hadn't been sleeping on the nest for a while now - so the no-longer-little one is indeed growing up!

Here is the lovely nest, with the moon in the background: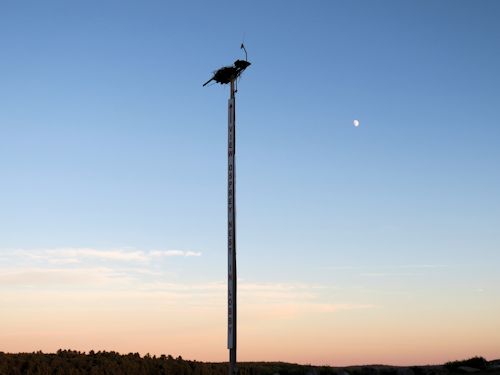 And it is indeed very empty: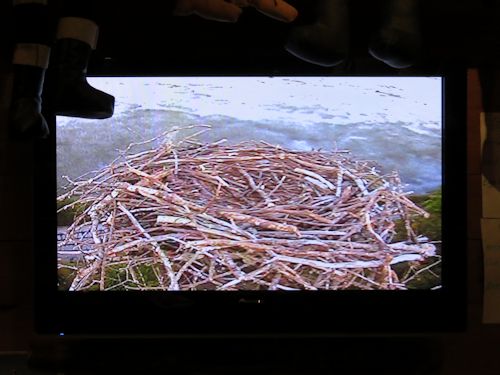 ~~~~~~~~~~~~~~~~~~~~
If you'd like to see additional pictures from this nest, and from the osprey nest "around the corner" on the Sasanoa River, you can use the link for my Local Wildlife Home Page at the top of the page to see an index to all the visits.