I stopped by the Taste of Maine for a few minutes - and now I'm not sure what's happening. The "greet and seat" person on duty agreed that the nest was empty, but said the osprey had been there earlier in the day. I asked him when, and he said he'd come on duty at noon, and it was shortly after that, maybe 12:15. He also said he'd seen someone, he assumed the chick, doing some circling over the water.

After I thought about that a bit more I went back and asked if the chick had a fish, or if she was just hanging out at the nest, and he said he wasn't paying close attention (and I agreed that he did have a job to do, and it wasn't watching the osprey, and we both laughed) - but he didn't think she was eating - just sitting there for a while, and then she left.

He also said that he didn't see anyone on the nest yesterday, but the osprey was there on Friday.

So - even though I haven't seen her for a while, the youngster may still be in the neighborhood.
Or at least may have been earlier today.

At least some of the weather sites say the wind is from the Northwest today, which might not be as good as the Northeast for carrying an osprey south, but has to be better than flying into the wind.
Here is a view of the site as I arrived: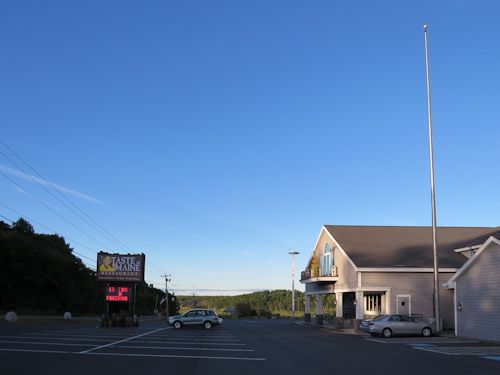 And here is the only bird I saw, perched on top of the giant flag pole: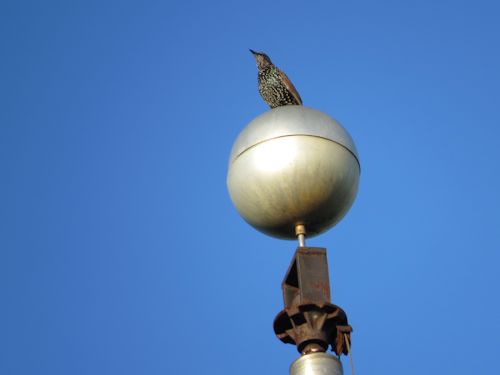 And the nest looks very empty: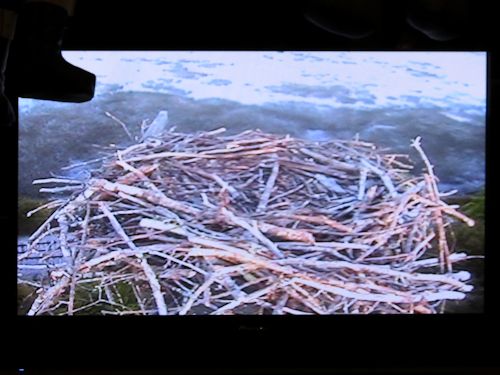 ~~~~~~~~~~~~~~~~~~~~
If you'd like to see additional pictures from this nest, and from the osprey nest "around the corner" on the Sasanoa River, you can use the link for my Local Wildlife Home Page at the top of the page to see an index to all the visits.