The folks at the Taste of Maine reported that an osprey was seen on the nest on March 31, but it may have either been someone passing through, or else he or she decided to go back where it was a bit warmer for another week or two.
Here's a picture of the nest from March 29 - looking quite a lot like the end-of-season pictures I took last fall; notice the snow on the land and ice in the background; all pictures should click bigger (though the one from the bridge may not for a day or two - I haven't gotten to those pictures yet).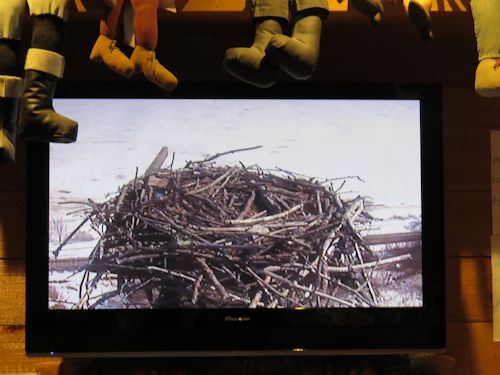 I didn't think to take a picture of the marsh while we were at the restaurant, but a view of the nest and beyond from the parking lot, and I've included one taken from the bridge where I view the Sasanoa osprey and eagle nests - and the white area in the back left corner is the frozen marsh you can see from the Taste of Maine (the red circles show the osprey nest on the right and the eagle nest near the middle).
We were back again on April 5 - but that was Easter and this is a very popular family restaurant so it was all we could do to get into the parking lot to get the picture below; you'll notice that we're now seeing water instead of ice in the background.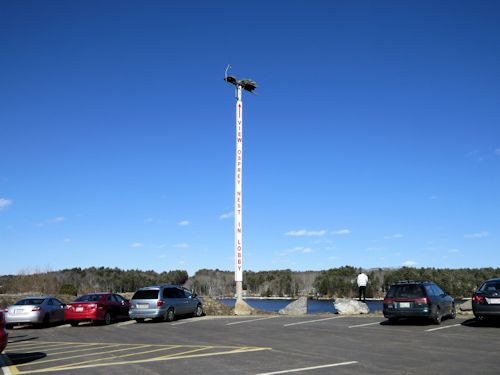 And a look at the nest from below, for comparison purposes; it looked very similar to the picture we took the week before.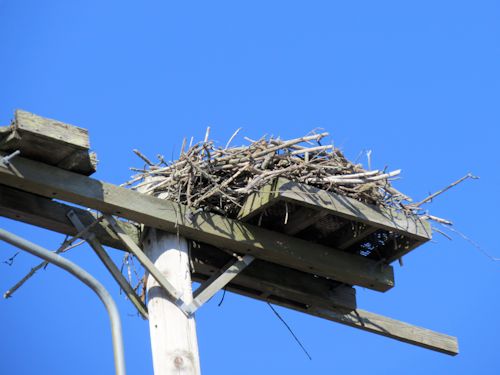 ~~~~~~~~~~~~~~~~~~~~
If you'd like to see additional pictures from this nest, and from the osprey nest "around the corner" on the Sasanoa River, you can use the link for my Local Wildlife Home Page at the top of the page to see an index to all the visits.