Charlie had music practice in Portland - and I'd heard that the first two chicks hatched on June 2nd, and knew the third was likely to be hatching soon - so I decided to run down to the Taste of Maine after work for a light supper (chef's salad - which is only light because I brought most of it home - their salads are huge!).
When I got there, the greeter said that the third egg had hatched today - and that Dad had been very busy all day, bringing in fish to the family - but of course he didn't do that during the 20 minutes or so I waited in the lobby for a peek at the chicks. It did occur to me as I waited that I may not have explained the feet dangling in front of the monitor in many of my s'caps - so here's a wider view of the monitor, and Mom brooding the chicks (all pictures click bigger, by the way):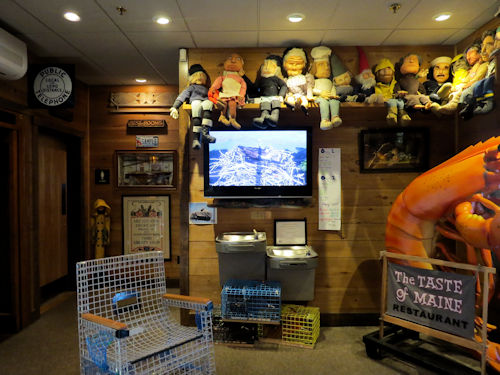 I was getting hungry - and the dinner crowd was thinning out so I could get a table by the window - so I moved inside. Here's the view of the nest from the dining room - and a look at the top of Mom's head.
And finally, as the sun was almost setting - Mom got up!
It's a bit tricky to see anything with the last of the sun's rays reflecting off Mom's white body, and the chicks in shadow - but there are three little chicks with their little chipmunk-like stripes there.
~~~~~~~~~~~~~~~~~~~~
If you'd like to see additional pictures from this nest, and from the osprey nests "around the corner" on the Sasanoa River, you can use the link for my Local Wildlife Home Page at the top of the page to see an index to all the visits.