Today was a beautiful sunny day, and Charlie was busy with other things, so I decided it was a perfect day for a late lunch at the Taste of Maine Restaurant!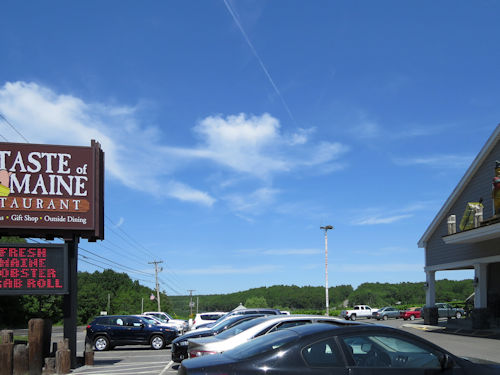 The two older chicks are 12 days old, and the little one is 10 days old - so they are much bigger - but still not that easy to see (all pictures click bigger) - they are all in front of Mom, and I think the little one is on the left.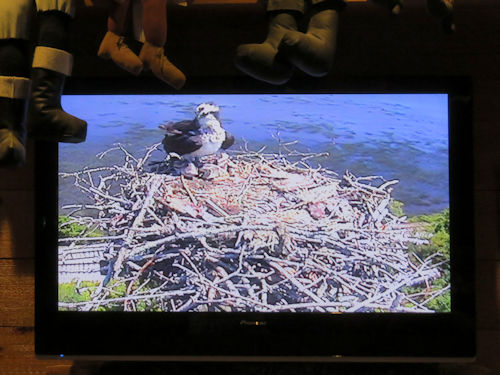 My table provided a great view of the nest - and I saw an adult fly by with a fish, but it didn't come to the nest so perhaps it was the male from one of the other nests in the neighborhood.
Did I mention it was a lovely day? (Sorry about the reflection, but it does show that these are some of the views from the restaurant.)
And last but definitely not least - for the first time I saw the chicks peeking over the side of the nest!
I'm not sure - but this may be all three chicks, the two older ones in the first picture, and one of the older ones and the little one in the second. They do move around - but the one in the center looks the same in both pictures, and the one on the right in the second picture appears to have a smaller beak than the other two. So maybe even the little one is now able to look out - at least a little!
~~~~~~~~~~~~~~~~~~~~
If you'd like to see additional pictures from this nest, and from the osprey nests "around the corner" on the Sasanoa River, you can use the link for my Local Wildlife Home Page at the top of the page to see an index to all the visits.