Charlie often crosses the Woolwich-Arrowsic bridge on his way to his Mom's house, and last year we noticed that there was an osprey nest visible from the bridge. It was near the end of the season, but we kept an eye on it through the winter, and were occasionally rewarded by seeing an eagle using it as a fishing platform. It's not a location where it's especially easy to stop (narrow bridge, busy highway - not a good idea), so we don't have pictures from that time.
We did notice that the osprey had returned this spring, and also noticed that there were osprey perching and perhaps building a nest on the utility poles crossing the river by the bridge - and weren't sure if there were two pairs or one pair that hadn't quite decided where to nest. Recently Charlie has seen an osprey in the original nest almost every time he's been able to look, so we agreed there are probably eggs (or maybe chicks) there. On Friday, May 29, we were both headed that way and had some extra time so decided to find a place to park safely and hike back to the bridge to see what we could see.
Here's the nest from the bridge (all these pics can be clicked for a much larger version)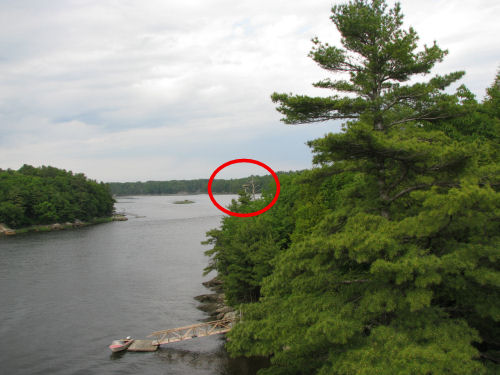 We had a nice look at the osprey on the nest: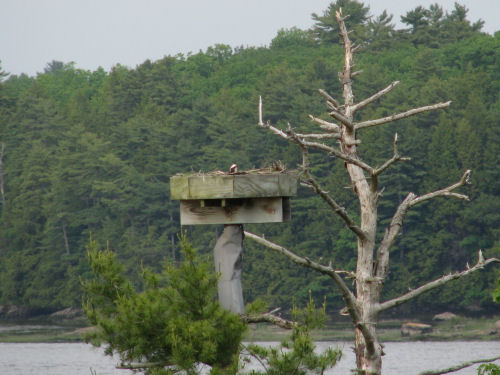 And I'm guessing that she might still be incubating, or has very young chicks. We've been by a couple of times over the weekend, and one of them was always in the nest in an incubating/brooding position. The BioDiversity Research Institute has a cam in another osprey nest nearby, and the chicks there just hatched within the last week (and are very cute - link to the cam is here).
We took a quick look at the tower where Charlie had seen either these osprey or other osprey: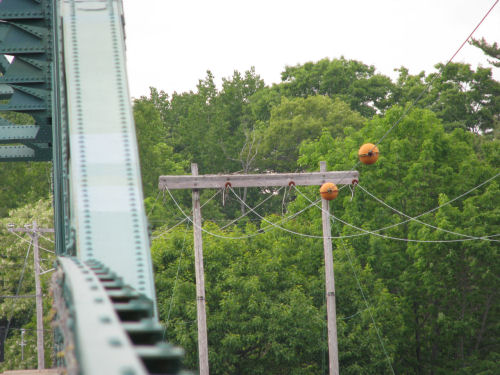 but no one was home.
I took the binoculars and scanned around, wondering if I could see where Dad osprey was hanging out. The males generally are within sight of the nest, in a location where they can also watch for fish. And I noticed something not that far away that didn't exactly look like an osprey: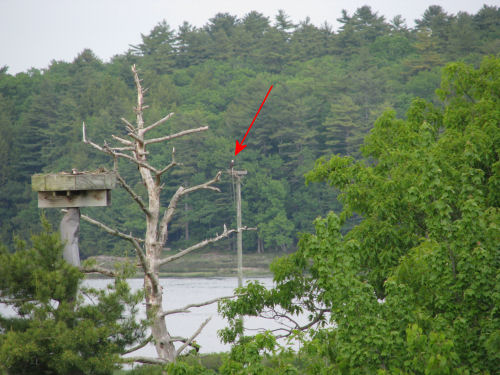 (reminder - you can click for a larger view).
We moved a bit farther out onto the bridge (further from our safe but probably illegally parked car) and yup - on that platform that looked like it should host an osprey nest - there was an eagle.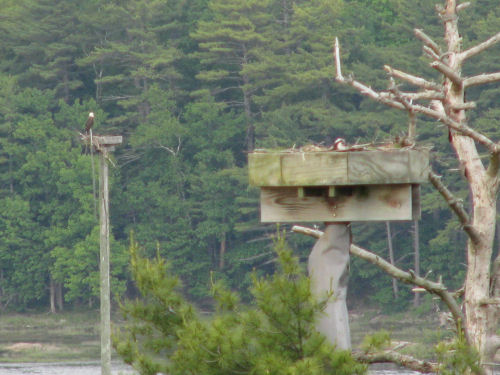 We watched for a few minutes, somewhat amazed that an eagle could be perched so close without the osprey being concerned, but it did seem that they'd worked out the details ages ago (and they are farther apart than they seem from this perspective, though they do seem to be fishing in the same body of water) - and we did need to move along, so we took one more picture of the general area (all pics can be clicked bigger):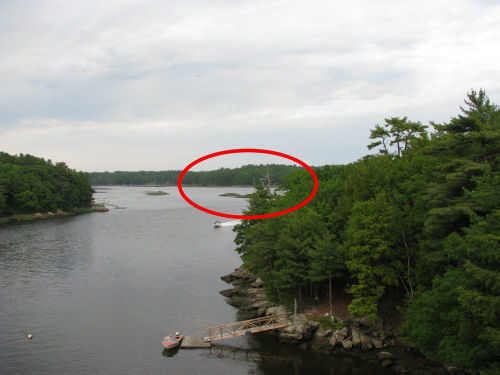 and headed on our way.
~ ~ ~ ~ ~ ~ ~ ~ ~ ~ ~ ~ ~ ~ ~ ~ ~ ~ ~ ~ ~ ~ ~ ~ ~
We were passing through the area again on Sunday, and Charlie (who grew up in this general area) knew a side road that had a view of the area, and was both a little bit closer and nowhere near as busy. So we drove down to where the pavement ended, left the car, and scrambled down a sort of a path to the river.
I do like osprey - and the vast majority of the non-eagle nests I watch on the internet are osprey nests. But we have lots of osprey in our area, and not a whole lot of eagles - so once we discovered that the eagle was again on the platform, that's where I turned the binoculars. And then I said to Charlie - "this seems a bit unlikely - no way that looks like an eagle nest - but I think I see a chick...."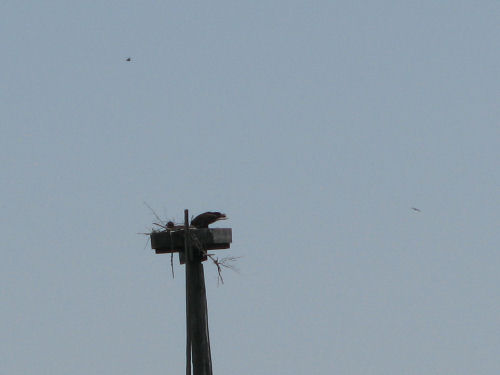 Knowing that his eyes were a lot better than mine, I passed him the binoculars and took the camera, and started taking a few pictures, even though the viewfinder wasn't anywhere near as powerful as the binoculars. (A friend of mine has a really nice, really big telephoto lens - I think I want one!

) He initially said there was some sort of bump there, but it wasn't moving - then all of a sudden he said - "it moved! Oh - you're right - it looks like an eaglet!"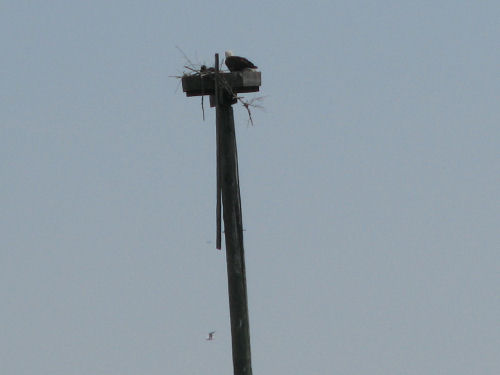 It took a while, but we did finally get a good look at it - and it looked almost as big as the six-week-old chicks on the Central Maine nest cam - it looked very dark, suggesting that all of its feathers were in - but still seemed quite a bit smaller than than the adult (likely Mom as the females spend more time at the nest than the males).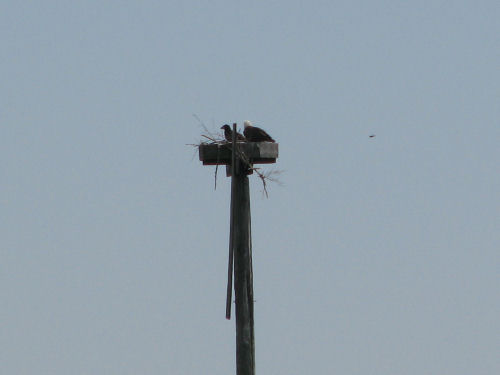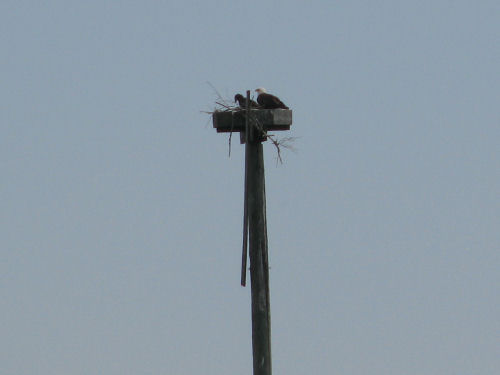 The eaglet didn't do anything exciting like flap - and I'm still amazed to see them nesting on a platform in the middle of the river - but it was still marvelous to discover a new eagle nest and actually see an eaglet live and in person!
And we didn't forget our friends the osprey - Mom was in the nest, and Dad was perched on the dead tree next door, keeping an eye on the family and looking for their next meal.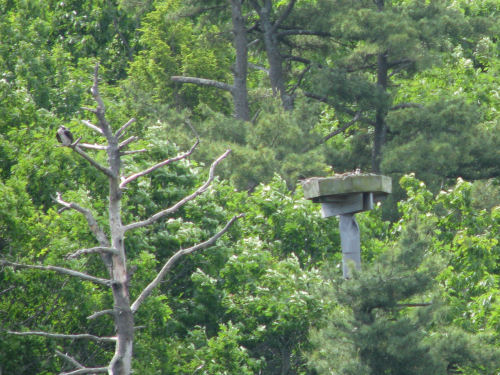 And it looked as if there was another pair on the transmission tower, though it didn't seem as if they were nesting this year.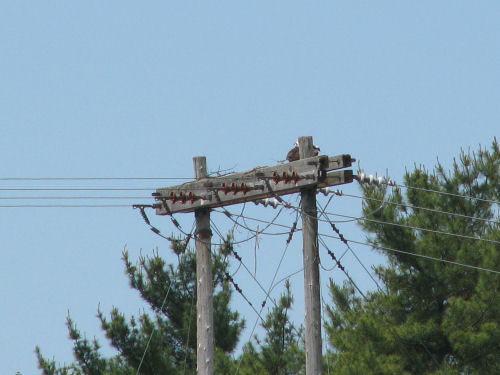 So all things considered - we had quite a wonderful time! I have seen eagles in Maine - but this is the first time I've ever seen a nesting eagle with an eaglet. Although there is a nest of some sort that's supposed to be visible from the interstate, so that may be my next excursion....
And in case anyone is concerned, we really weren't close enough to upset the eagles or osprey, and while the two osprey pairs are close - they aren't as close as they may appear. The next four pictures provide a bit of a non-zoomed panorama, starting with the eagle nest, looking out to open water, then moving past the active osprey nest, and ending at the transmission tower where it looks (based on the sticks) as if another pair is thinking of nesting. (There are a few little chunks missing between the pics, but they are in order.) All pictures are clickable to a much larger size.
And with a bit of luck, I may have additional pictures as time goes by.

(By the way, there are birds flying in the background of some of the pics. I know there was at least one gull in the area, and am quite sure I saw an osprey flying. There might also have been an eagle. My eyes aren't that good, and I can't get my binoculars focused fast enough to see them. And some of them I didn't see until I got home and looked at the pictures at full size. I don't think I'd make the grade as a bird watcher.)