I'm convinced that there is at least one chick in the osprey nest - but I didn't get a picture of it or them. I think it's a very new chick or chicks, and am hoping it will be a bit taller next time I visit the area. All pictures click bigger - maybe you'll have better eyes than mine.
And I know there's a five-or-so week old chick in the eagle nest - but I didn't get a glimpse of him or her either.
And for something a bit different - I use a high-powered zoom for the pictures I get, and have occasionally posted the un-zoomed view of the area - which looks like this; the osprey nest is on the point on the right, and the eagle nest is on the island straight ahead.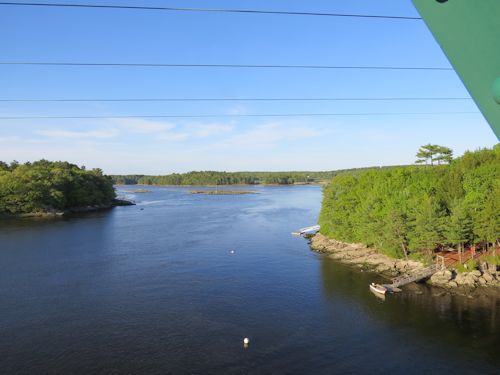 But after a year or two of trying to convince my computer and Google Earth to play nicely together - they finally decided to do that. So here's the overview of the area (which also clicks slightly bigger):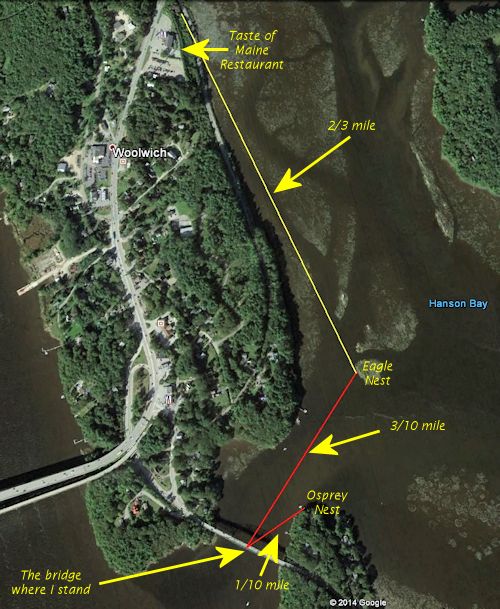 And here, courtesy of Google Earth and photographer Taoab, is a look back at the bridge, I think from one of the docs on the right in my picture from the bridge above.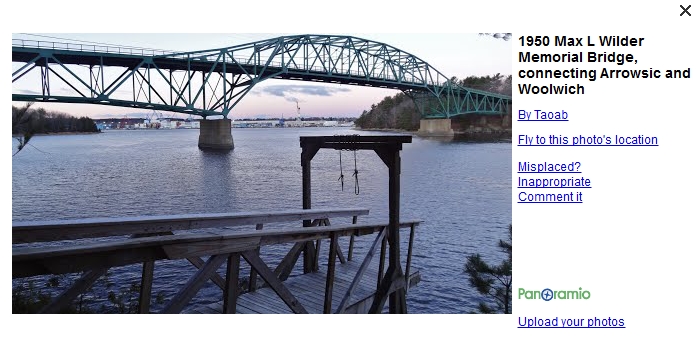 I do think it's amazing that I can get even slightly fuzzy pictures of the eagles from 3/10 of a mile away - and I'm quite sure I'll be able to get nice pictures of the little osprey chicks as soon as they can peek over the edge of the nest - technology is wonderful!
~~~~~~~~~~~~~~~~~~~~
If you'd like to see more pictures and commentary on this nest - or on the webcam nest at the Taste of Maine Restaurant - you can use the link at the top of the page to get to my Local Wildlife Home Page which has an index of the reports on our visits to the sites.