I had to take Charlie's car in to the dealer for some emergency service this morning (the headlights weren't working - not a problem in the middle of the day, but not good after dark, and he had a previous commitment) - and given that the dealership was right across the bridge from the Sasanoa osprey nest - I decided to take my lunch break before I went to the office, and check them out.
When I got there, I saw both adults - and a contented chick. I checked the rest of the nest - and didn't see anyone.
All things considered - one healthy, happy chick is better than none - and both adults were looking great! (All pictures click bigger.)
But when I got home, and checked my pictures - I couldn't help but wonder - was there a little striped osprey eye peering out from the back of the nest?
And for those wondering about the eaglet - she was doing fine! The light (and the fact that her nest is almost 1/3 of a mile from the bridge) made it hard to get a clear shot - but I can guarantee that she was looking great!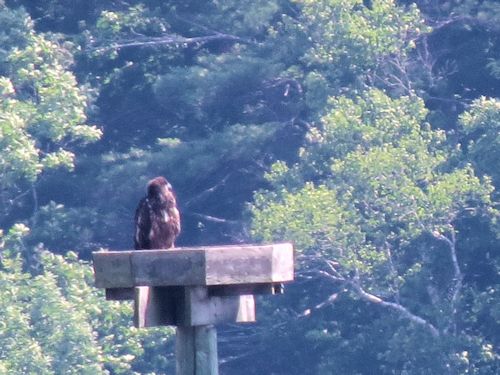 ~~~~~~~~~~~~~~~~~~~~
If you'd like to see more pictures and commentary on this nest - or on the webcam nest at the Taste of Maine Restaurant - you can use the link at the top of the page to get to my Local Wildlife Home Page which has an index of the reports on our visits to the sites.