It's getting time for eagles in Maine to lay eggs, so we went to check on our "local" pair, who nest on what probably started as an osprey platform on a tiny island in the Sasanoa River. As we crossed the bridge over the river, I thought I saw a white head in the nest - so maybe.... But after we parked the car and headed out onto the bridge, camera and binoculars in hand, I thought I saw someone flying off. It's about 3/10 of a mile from our vantage point on the bridge - so not easy to know what we're seeing without binoculars or a camera with a fairly powerful zoom lens - and luckily we have both. These first two pictures show the view from the bridge (all pictures click larger) - if you click on the first one, which is unzoomed, you may be able to see the pole with the nest.
While I was taking the second, more zoomed in picture of the nest, I thought I saw someone circling around - and I managed to zoom in fast enough to catch his or her arrival!
The final two pictures are using the digital zoom capability of my Canon PowerShot SX50 - which means I'm trading sharpness for a closer look. And it looked to me as if he or she checked or maybe turned an egg or two, and then settled in to incubate.
This is the first time we've checked on them this year, so I don't know when they laid their first egg - but it seems they usually lay in the middle of March, so I'm guessing they haven't been on eggs that long.
Because this is the first report on the Sasanoa nests this year, I want to include a Google Earth picture I made a couple of years ago, to show where everything is. In addition to the osprey nest marked on the map, there's also a pole with a nest in the parking lot of the Taste of Maine Restaurant (I call those the Woolwich pair in my reports here) - and last year a pair nested on top of the bridge and fledged one chick - very close to the more established pair I've been watching for several years, but I think it all worked out. I do wonder if they'll return, or if they'll try to find a more traditional location.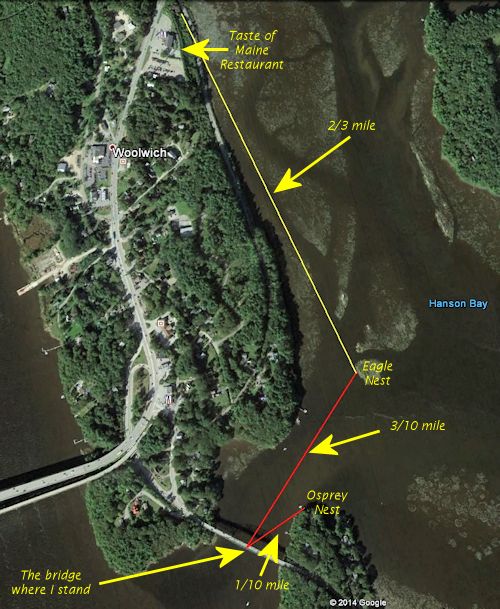 ~~~~~~~~~~~~~~~~~~~~
If you'd like to see additional pictures from this nest, and from the osprey nests "around the corner" on the Sasanoa River, you can use the link for my Local Wildlife Home Page at the top of the page to see an index to all the visits.