I broke my elbow at the end of January - and happily it's healing well - but I still need physical therapy twice a week (not to mention a long list of exercises I'm supposed to do every day - and I do most of them most days, but exercising has never been high on my list of priorities - but I digress). Anyway, one of the ways of getting to therapy takes me fairly close to the osprey and eagle nests on the Sasanoa - so I decided to leave a little early and check things out - and I was rewarded (all click bigger). ☺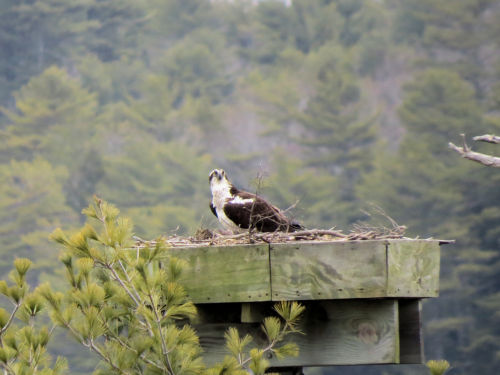 And here are a few more pictures of the first osprey I've seen locally:
And - the local eagles are still incubating - not sure who this is, but she or he looks contented.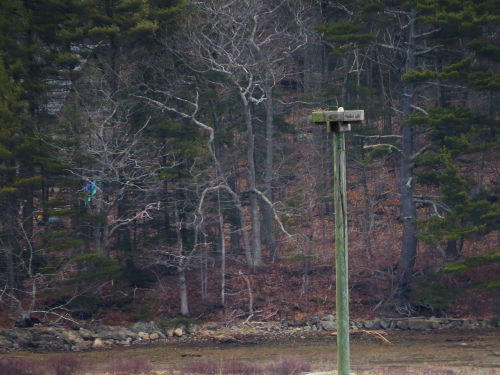 I've heard from friends that both osprey were back at the Sasanoa River nest a day or two after I took these pictures (and were seen bonding!), and one osprey was back on the Sasanoa Bridge nest (I stand on the Sasanoa Bridge to take pictures of this nest - so it's only about 1/10 of a mile away. And the osprey are back at the Taste of Maine Restaurant nest on the other side of the eagle nest, around the corner - so I'm very much hoping to get down soon to get lots more pictures!
~~~~~~~~~~~~~~~~~~~~
If you'd like to see additional pictures from this nest, and from the osprey nests "around the corner" on the Sasanoa River, you can use the link for my Local Wildlife Home Page at the top of the page to see an index to all the visits.