Back at the end of May, we visited this area and got some nice pics of Mom osprey on her nest, apparently either incubating eggs or brooding young chicks - and to our surprise and joy - discovered an eagle nest (link to our May 29-31 report).
We returned see how they were doing on June 27, and while we had a lovely day, it was pretty quiet at both nests. We combined this trip with a visit to the Maine osprey cam nest at the Taste of Maine Restaurant in nearby Woolwich (link to report), and the logistics combined with summer traffic made a trip to the bridge with the closest view of the osprey nest impractical, so we just went down the side road to the edge of the river. The chicks in Woolwich were 4-1/2 weeks old, so we were expecting if there were chicks, they'd be roughly the same age. However, we weren't even able to tell if there were any chicks. We think we saw one or maybe two - but couldn't be sure. See what you think (and remember - these can be clicked bigger)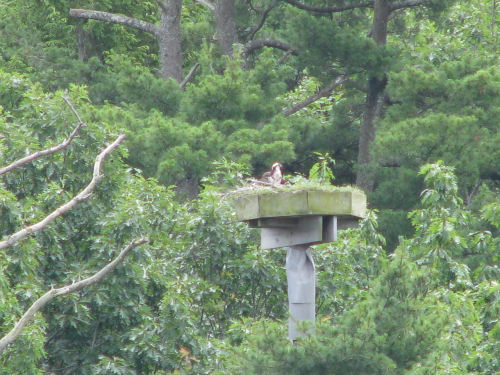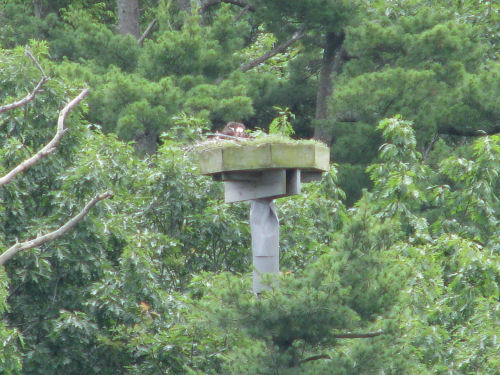 One thing I hadn't noticed before is the predator guard - the metal covering that makes it hard for animals such as raccoons to climb the tree and harm the chicks.
We then turned our sights (and binoculars) on the eagle nest. And while we were only there for about 15 minutes, we basically saw 15 minutes of the eaglet sitting on the edge of the nest box, looking around. That was more or less what the eaglets on the central Maine eagle cam were doing for hours on end, so we weren't surprised - the cam eaglets are about 10-1/2 weeks old, and this one seemed likely to be about the same age or perhaps slightly younger. Here are a couple of pics.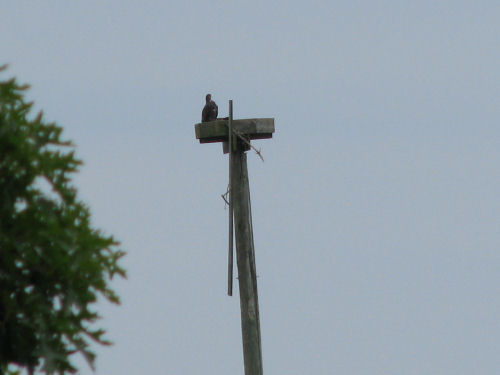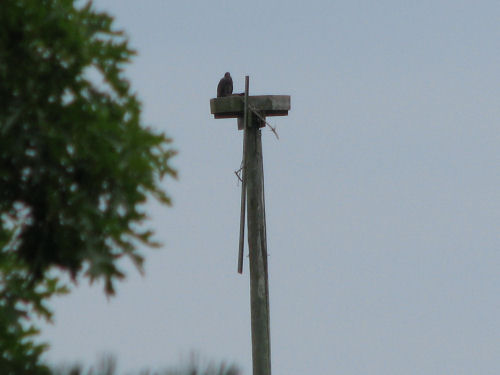 It was a beautiful day -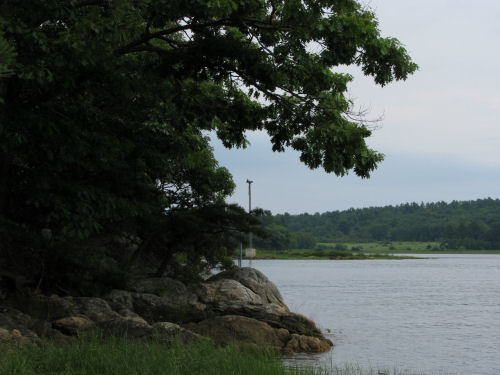 and as there wasn't much else going on, Charlie and I ended up by taking pictures of each other: